Piselli
, Installation View
Piselli
, Installation View
Piselli
, Installation View
Smoke
, 2020, charcoal, collage, patch and sewn sublimation print on fabric, 50 cm x 40 cm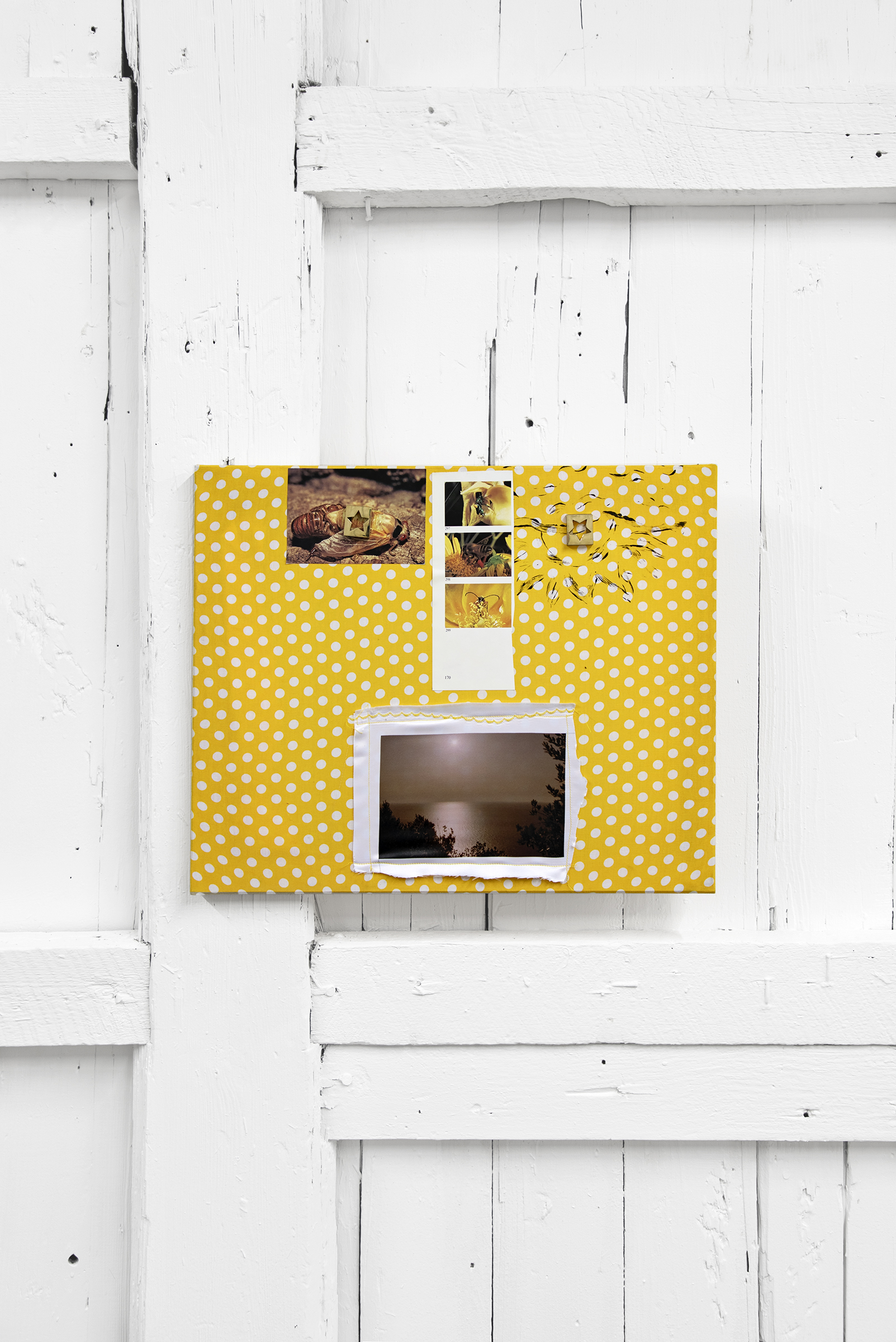 Honey
Tramonto
, 2020, acrylic, collage, gold plated metal pieces and sewn sublimation print on fabric, 50 cm x 40 cm
Triangle
Amoureux
, 2020, acrylic, charcoal, oil, Swarovski crystal sheet, collage and sewn sublimation print on fabric, 50 cm x 40 cm
Bible
, 2020, acrylic, oil bar,collage, silver plated metal flower, Swarovski crystal, and sewn sublimation print on fabric, 50 cm x 40 cm
Weena
, 2020, acrylic, stickers and sewn sublimation print on fabric, 50 cm x 40 cm
True
Romance
, 2020, acrylic, collage, fabrics and sewn sublimation print on fabric, 50 cm x 40 cm
Koka
Kola
, 2020, acrylic, collage and sawn sublimation print on fabric, 50 cm x 40 cm
Arrhythmia (for Angelique)
01/10/21
Hello,
my body is giving me a profound trouble
the electrical impulses governing my heart rate have gone haywire
and the repercussions are monumental
my palpitations are abnormal,
resulting in a set of circumstances my doctor says are entirely new
says I'm lucky to champion a new frontier of feeling
02/10/21
the situation is developing
the birds around me seem to sing my name
flying by in a cosine wave, they emulate my arrhythmia
they tell me congratulations,
that I've won a genetic lottery,
and I suspect they're terribly right
03/10/21
I'm emitting all sorts of sounds and vibrations
they echo across my windowless walls,
hop-scotching across each spot in the wallpaper
above me, the moon ripens
I know this not because I can see it,
but because she told me so
04/10/21
all day, i've been caught in a fever
panting and sweating through synthetic sheets,
my colour perception is playing tricks
I'm red, I'm purple, I'm fucking orange
but most of all, I believe I'm blue
because my veins are boiling
cooking me slowly from the inside out until tender like a crockpot stew
I'd burn your tongue but still be worth it
05/10/21
nobody plans their fall from the sky
a pierced wing, wildfire, a failed engine,
the fall is beyond divination
a fold to gravity
on the floor, a million women smile down at me
with sharpened teeth, i'm quivering in my cocoon
06/10/2021
I wake up and I'm alive
I'm on zoom, but I'm muted
(maintaining my legacy)
for the first time in days I twist the doorknob
to inhale a gust of cool wind
my lungs collapse and the spell is broken
07/10/21
the emissions have subsided and my vision is clear
I'm rinsing my hair with vinegar
hoping to impress
my appetite is coming back
i'm out for blood and green peas
— text by Danica Pinteric
Attraction and repulsion, innocence and violence, obsession and indifference; in her new body of work, Paris-born artist Angélique Heidler investigates the paradoxical dualities embedded within mainstream depictions of both femininity and romance. In her signature style of adorning the painted canvas with personal objects and images through collage and sublimation printing techniques, Heidler brings together these contrasting forces, highlighting their hybridity through a series of playful compositions. Touching on themes of childlike fantasy, consumption, and indulgence, Heidler's wide scope of aesthetic reference speaks to the highly nuanced construction of gender and the self through late-captialism's endless horizon of media representation and branded products. The exhibition's title,
Piselli
, represents Heidler's tongue-in-cheek humour well, simultaneously referring to the Italian word for green peas as well as children's slang for male genitalia.
The accompanying text,
Arrhythmia
(for Angelique),
intuitively tethers the conceptual and figurative themes in
Piselli
, told through a fictional sequence of narrative journal entries—a formal approach inspired by the early-2000s diary of a young girl found tucked away in the gallery space, abandoned by its previous owner.
Piselli
is Heidler's first solo exhibition in the United States.
Angélique Heidler
is a French painter born in 1992, she lives and works in Paris. She graduated from the Slade School of Fine Arts, London, in 2015. Her intuitive practice questions societies' issues though its existing imagery and fragments. She aims to highlight the absurd and marginal by collaging her paintings with stereotypes. Her work has been shown in France and internationally, in solo and collective exhibitions such as : Haus Wien, Ginny on Frederick, Vienna, 2021; Masterless Eye, Yudik One, Brescia, 2021; Your Friends and Neighbors, Hight Art, Paris, 2020; Softview/Privatissime, Neuer Essener Kunstverein, Essen, 2020; Stay Safe, Shivers Only, Chantemanche, 2020; This Tragedy, Fonda, Leipzig, 2020; BAITBALL (01), Palazzo San Guiseppe, Polignano A Mare, 2020; solo presentation, Shivers Only, Material Art Fair, Mexico City, 2020; Heidler Mailaender, Galerie Derouillon, Paris, 2019; On ne sait plus quoi penser du serpent qui a peur, Galerie l'Inlassable, Paris, 2019; Outside Our, Villa Emerige, Paris, 2018; The Unlimited Dream Company, Hannah Barry Gallery, London, 2017; The Dark Ages, Supplement Gallery, London, 2017. She was a resident at Plop (UK, 2019), LaWayaka Current (PA, 2016), Villa Lena (IT, 2016) and is currently a resident at Stadtgalerie Bern, (CH, 2021). She was shortlisted for the 5th edition of the Révélations Emerige award (FR, 2018).